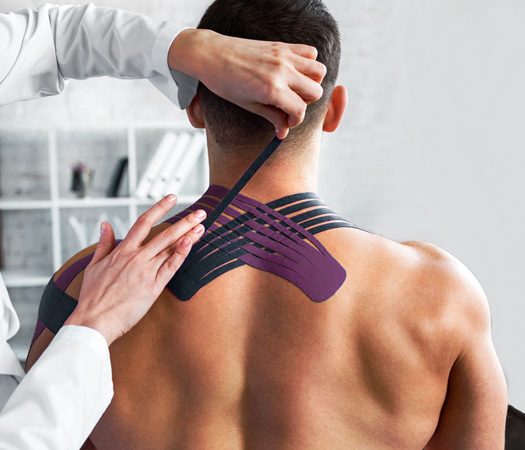 MANUAL THERAPY TREATMENTS
What is Kinesio Taping?
Have you noticed brightly colored tape on Olympic & Professional Athletes? That's Kinesio Tape!
It's a flexible therapeutic tape designed to microscopically lift the skin to promote the body's natural healing process.
It involves placing lengths of special tape on your body in specific places and directions to help improve your mobility while supporting your joints, muscles, and tendons.
Kinesio Tape Has Proven Advantages Over Traditional Taping.
Allows for full range of movement with joint and muscle support.
Increases circulation.
Decrease swelling and inflammation
Proven to provide pain relief
Who Can Benefit From Kinesio Taping?
Kinesio Taping (also known as "KT Taping") can be used  for any patient with mechanical pain, not just athletes.
It works really well with overuse injuries.
We Often Use Kinesio Taping To Provide Faster Recover For:
Shin splints
Tendonitis
Reinforcing posture
Controlling swelling
Overuse injuries: Decrease muscle pain by relaxing overused or tired muscles
Prolonging benefits of the manual therapy performed during PT session through extended soft tissue manipulation.